Chris Willow Presents – Ritchie Blackmore and his Rainbow Recorded two New Studio Songs. Excpert of The Exclusive Interview for Burrn! Magazin.
–> THE AUTHOR THE POST AND ITS CONTENT – CHRIS WILLOW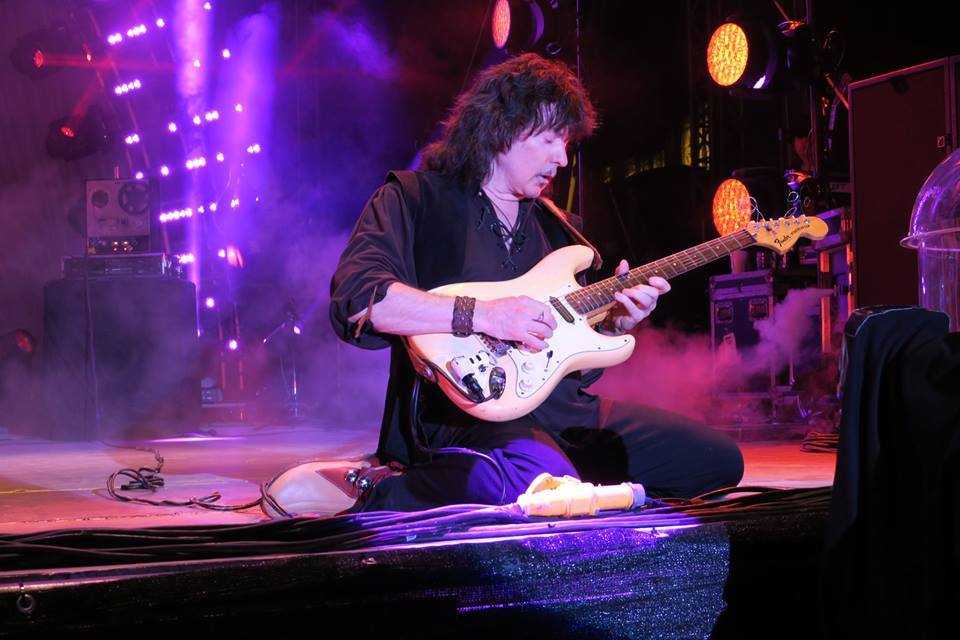 Ritchie Blaackmore – ex Deep Purople, with Blackmore's Night and Blackmore's Rainbow now, has just appeared on the cover of Japan BURRN! Magazine one of the most famous heavy rock magazines in the world.
https://www.facebook.com/BlackmoresRainbow/photos/a.807099809412641.1073741830.806244336164855/1169467683175850/?type=3&theater
Beside the cover you can find 14 page feature about Ritchie and his current music and private world.  He recorded new studio songs for Rainbow some time ago. One them is a completely new song and the other one he took from the older material. It is a secreat what songs and what titles they are, now.
We probably can listen to them live at Rainbow UK June 2017 concerts.  The current Rainbow line up gets much of its excessive driving force from the talented, with an awesome stage behaviour lead vocalist Ronnie Romero. He was discovered by Blackmore's wife Candice Night on you tube. She presented his singing to Ritchie who loved it from the first high note.
Blackmore was thriller by his talent, sound, expression, stage appearance and flexability invited him to NY to become a new Rainbow frontman. Ritchie Blackmore's Rainbow new line up Ritchie- gitara, Ronnie Romero-vocal, Bob Curiano (alias Nouveau) – bass, Jens Johansson-key and David Keith-dr did afew rehearsals and successfully appeared at last year's Monsters Of Rock Festival in Geramny and at one Genting Arena, Birmingham, UK concert in June 2016.
As the follow up thing Rainbow released video DVD 'Memories In Rock' which presents songs from German concerts only. This DVD was granted'Gold Disci Award' in Japan earlier this year. This award is an equivalent of Grammy Award in Japan.
https://www.facebook.com/BlackmoresRainbow/posts/1151562944966324
The new Rainbow 2CD audio album called 'Live In Birmingham 2016' is due to be released on 9th June 2017 too. It is a recording from lats year's Rainbow Birmingham concert where Blackmore's group presented itself very expressive, tight and extraordinery.
https://www.facebook.com/BlackmoresRainbow/photos/a.807099809412641.1073741830.806244336164855/1188788374577114/?type=3&theater
Ritchie Blackmore is very proud of his lead Singer Ronnie Romero saying very kind words on him in recent interviews. Heavy metal world appreciates the talent of new rising star too. Ronnie Romero apart of performing with his own group 'Lords Of Black'
is being invited to perform live together with other well known heavy rock bands like Axel Rudi Pell – a Blackmore influenced guitarist
and he participates in creating completelly new project with such names as Mike Terrana-drums (ex Yngwie Malmsteen, ex Tarja Turunen) and Swedish guitarist, composer, multi-instrumentalist and producer Magnus Karlsson
Ritchie Blackmore experiences renaissance of his creativity and composes and performs together with his two groups. This way he can reach various audience and hit them artistically with tremendous variety of classicla, medieval, renaissance, folk, rock'n'roll, heavy rock and blues rock mothives. He performs mainly in Germany and UK. He turns up thousands of listners everywhere he appears and blasts them with harmonic sounds of various types of music put into rock vein.  His bluesy live sound shines through his new Rainbow live performances very much.
This year's June UK tour is under way 17th- London, 22nd-Manchester, 25th-Glasgow and 28th-Birmingham. But there are a lot of Polish Blackmore fans who can't afford to go to see their idol in UK this year. They await for the time when Ritchie Blackmore with neither of his bands would be able to perform for them in Poland locally. There are attempots and negotiations to bring him with Blackmore's Night or Blackmore's Rainbow to the one of Polish music events called Suwalki Blues Festival held annualu in Suwalki, Poland. Lets hope the 2018 SBF edition let to fulfill their dreams.
Apart the Blackmore fitted cover and an article, BURRN! mag offers an Exclusive Ritchie Blackmore and his wife Candice Night Interview, excperts of which we present below.
On recording new material:
Burrn: We understand you were recording some material in the studio.
Ritchie: We were recording until yesterday in the studio at our home. We finished yesterday. We recorded some songs for Blackmore's Night and 2 songs with the new singer for Rainbow.
B: Do you have any plans for release?
R: No
Candice: It first started as a 20th anniversary thing for Blackmore's Night, re-recording some old material, but we came up with new songs. We have no plans for release right now, we were just having fun, but we may release when the right time comes but not right now.
On being a father:
R: I cannot believe I am playing the father's role. Our children are very "natural" and tell you the naked truth. Rather than make me mad, it makes me laugh. Especially Autumn, she makes me laugh all the time, she is a natural comedienne. Although I try not to laugh more than 5 times a year, I could break that rule in one day.
On Rainbow in Japan:
B: You know we are waiting for you and Rainbow is very popular in Japan. Rainbow's Memories in Rock won the Gold Disk Award in the DVD division, which is like the Grammies in Japan.
R: You mean no other DVDs were released in Japan?
On Ronnie Romero:
R: When I heard him, he seemed like the right guy to sing the Dio era songs of Rainbow. He is versatile, he can sing like Freddie Mercury or Ronnie James Dio or Graham Bonnet. The reason I did not ask Joe Lynn Turner is because I thought European fans wanted to hear the Dio lineup of Rainbow. I was very surprised that tickets sold out in 15 minutes. It was nice to know so many people wanted to hear Rainbow at this time.
B: Is Ronnie Romero the new singer you mentioned earlier?
R: Yes, I wrote one new song, and also recorded one of the old ones. Ronnie, who is in Madrid now, added his vocals and sent it back. Rather than make an album, we may release as singles.
On Bob Dylan:
R: I thought it was about time he got an award. I believe there are two geniuses in the US, one is Bob Dylan and the other is Billy Joel. I appreciate anyone that recognizes Bob Dylan.