Exclusive interview with Ritchie Blackmore's Rainbow very first background vocalist Shoshana Feinstein. Feinstein, a former girlfriend of Blackmore, offers fans her never published memories of the early seventies when Ritchie made his segue from Deep Purple to the formation of his Rainbow with Ronnie James Dio.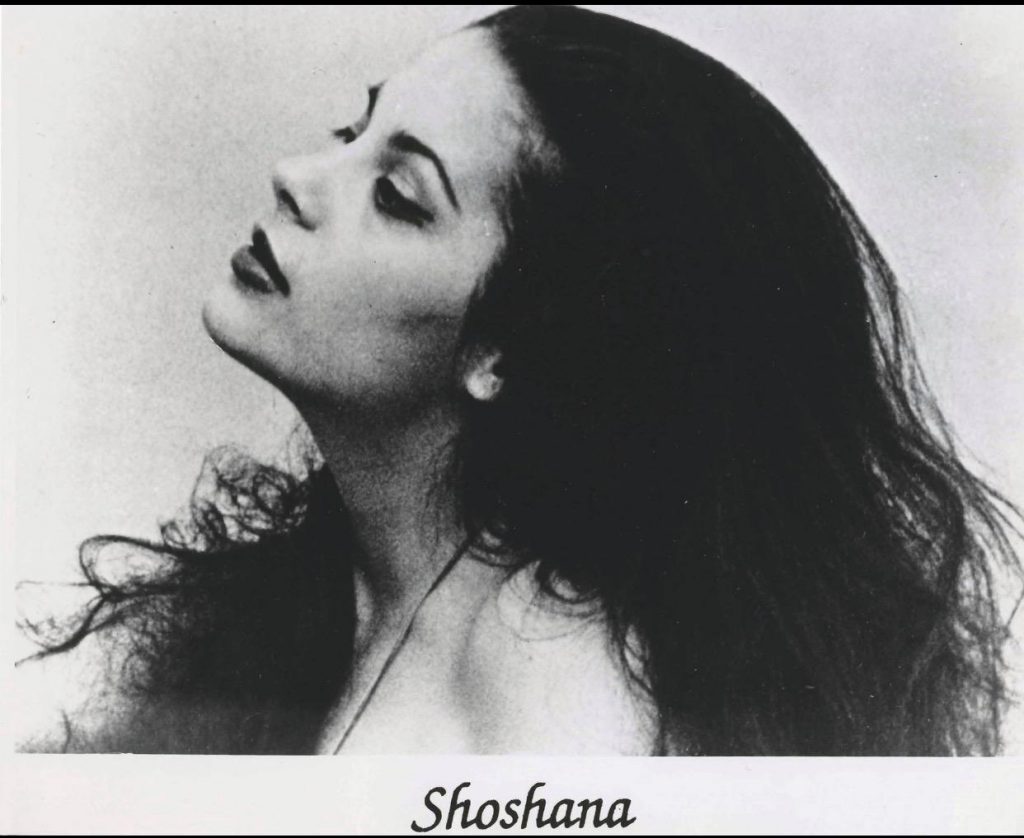 Christopher: Hi, Judith. It is Christopher Willow a publicist speaking.
Shoshana Feinstein: Hi, Christopher, it is good to talk with you about a part of my life that I have not revisited in a very long time
Christopher: How are you today? I have heard you had a Nor Easter snow blizzard some time ago. After so many years of our friendship, we are here to do a unique interview. Could you tell me, please where you are now?
Shoshana Feinstein: I am doing great thank you; living on a farm with my animals composing more music as well as recording. This winter we did not get any as we call them up here just a few winter storms where the snow accumulation was about twelve inches. I manage in the winter well, maybe because I am half-Russian? My friends call me "The Snow Queen."
I live in the Northern part of the Rhode Island State, here in the USA in the woods. When I look out in the back of my home and what I see are trees and beautiful stone formations caused by the glacial ridge that settled in the northeastern part of America I call my place Avalon which is an allegorical name for Heaven or Paradise (King Arthur's final resting place). This is my tiny piece of heaven here. The winters can be very cold and when it snows, we can get up to 3ft (1 m) of snow. The North Wind howls up my back twenty and the snow swirls like fairy dust at times creating a mythical environ. Spring is verdant, I am surrounded by ash, oak and birch trees. My yard is filled with crocuses, tulips daffodils, and poppies. I am very much a country girl, which is why I could not reside for long in any city that I have lived in.
Christopher: What are your roots? I know you loved your father very much.
Shoshana Feinstein: My Mother was born on July 17, 1923 to an Italo-American Family by the name of Iacovone, that was changed to Jackvony. My Father Saul Samuel Feinstein was born on July 16, 1923 – interesting enough! His parents came to America from Odessa, Ukraine, at the beginning of the 1900s. Odessa was a city thriving with artists and musicians, mostly Jews. My grandfather name was Benjamin and my grandmother Anne was from Minsk, Belarus. My Father was the wisest and kindest man I have ever known. He grew up the son of a tailor and lived in a three tenement building in Woonsocket Rhode Island, USA. He succeeds with his own business selling life insurance. My Father was a member of the 460th Bomb Group Fifteenth Air Force division during WW II from 1944 – 1945. He flew missions over Spinazzola, Italy. I have his medals of honor for rescuing a fellow downed airmen and his purple heart for bravery. Many of my Fathers cousins were musicians, my father played the violin and later the trumpet. He was my best friend and advocate; he never told me that I could not do what I was born to do; sing. He never told me that I needed to settle down and get married. He encouraged my gifts as a musician until the end of his life.
My parents met in high school when they were 14. It is interesting how the two families from different countries and heritages joined together. When my mother married my father in 1948, she converted to Judaism.
Christopher: Did anybody from your family become an artist or a singer?
Shoshana Feinstein: I am a direct descendant on my Mother's Italian side of Dante Gabriel Rosetti the pre-Raphaelite painter and Christina Rosetti the poet-ess. Most of my aunts, uncles, and cousins are musicians, painters, composers, and sculptors. I am proud of my rich heritage and the culture that my family comes from as well as the education that was instilled in me.
Christopher: When and where did your adventure with singing and music begin? What was the name of your first band? What was your favorite group?
Shoshana Feinstein: I knew from the age of two that I wanted to be and would be a singer. I recall watching Kate Smith singing "As the Moon Goes Over the Mountain," on our black and white television set and declaring to my beloved father, "Daddy I want to sing just like her! Apart from being crazy about horses and not the least bit interested in dolls, I was always singing and performing for anyone who would grant me an audience. Apparently, after the 4th grade Christmas concert, I was told by my friend's parents in the audience, they could hear me above everyone else. My first instrument that my Dad introduced me to was the coronet. He had played trumpet in college as well as in the army band. I practiced and practiced my armature with the mouthpiece until my lips hurt. Made it to the first trumpet in the elementary school band. Ha.
When I was twelve years old, I saw my first opera on television, Carmen, with Marilyn Horne. I was mesmerized. This was an "ah-ha" moment for me. I wanted to be Carmen! Once I was fifteen I began formal vocal training in my town with a strict teacher who started me off with college level vocalizes. Back in 1966 opera was not popular at all, nor was classical music, but I learned Debussy, Ravel, Schubert and Mozart pieces at first. Performing classical music at the time did not interest me so I gravitated to fronting bands. My musical influences were Motown, Dusty Springfield, Aretha Franklin, San Francisco rock and the British Invasion bands.
One of my first bands a very good band was called "UNCAS" named after the last of the Mohicans. We played Jefferson Airplane, the Doors, Grand Funk, Cold Blood, Moody Blues, Yes, The Beatles. Everything from the era of the 60s and early 70s. The drummer and I loved Deep Purple and would attend many concerts one of which (the Bronx) is where I met Ritchie. I especially admired Jon Lord's playing. I had studied classical piano since age nine and I knew that Jon Lord was classically trained, which is what drew me to Deep Purple, to begin with. I loved the sound and energy of Deep Purple.
My favorite band in those times and still is The Moody Blues. Justin Hayward the guitarist has had a tremendous influence on my compositions.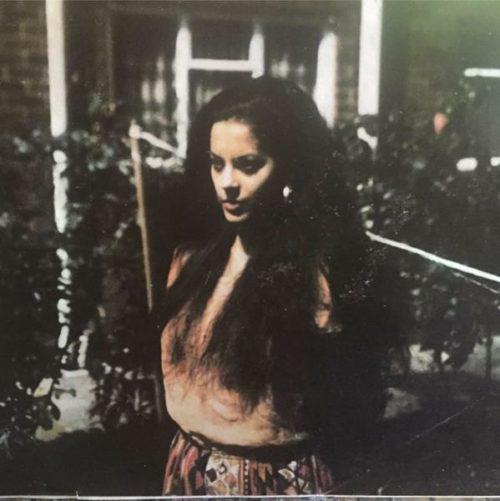 1974 in back of Ritchie's House Blochutte Camden, Surrey
Christopher: How did you meet a guitarist Joe Angelina? What is the story behind your next band?
Shoshana Feinstein: I met John Angelina in Rhode Island in the spring of 1973 when he was looking for a female vocalist for his band, which we called Magic Marriage. (Ridiculous!) I got the gig. We practiced all summer did about four gigs then John and the keyboardist Michael Iannuccilli moved out to L.A. that fall. I said Adieu to them and continued to perform only now it was in top end clubs singing jazz standards. Rhode Island was too small for me I wanted to get out so I move to Los Angeles in the winter of 1974.
I ran into John Angelina and Michael in the Valley one day and we decided to regroup. We formed a band called 'Dark Star' with John Angelina – guitar, Michael Iannuccilli – keys, Anthony Pasquazzi – drums. All were from Johnston, Rhode Island and bass – three different Californians at different times with very different stories LOL. We began writing which led to our first demo recording at the Record Plant in L.A. Artie Shaw (Alice Cooper's producer) produced the first 5 songs. We were a Rock band with a similar sound to 'Heart' although I had never heard of HEART until I heard their music and ours played on the same station at one time.
The keyboard player in Dark Star was Michael Iannuccilli and we were married in 1977. We have a daughter Rachael-Khara who was born in 1980. When Michael and I were first married Ritchie came to our house in Smithfield Rhode Island where we all got together and jammed drank some beer and reminisced. Ritchie had known Michael from Dark Star days and always respected him as a person and a musician. Sadly, Michael and I were divorced in 1984.
Christopher: Is Blackmore Ritchie's real surname?
Shoshana Feinstein: Yes, Blackmore is Richard's surname.
Christopher: How and in what circumstance did you meet Ritchie Blackmore? Would you tell me when and where the story with him begins?
Shoshana Feinstein: I met Richie in the summer of 1972 at an outdoor concert in the Bronx New York.My drummer from Uncas loved Ian Paice and the two of us were die-hard Purple fans so we drove down to NYC to see this outdoor concert. I was standing outside waiting for the band to play. I had black hair down to my waist, a scarf tied around my breasts and a long flowing skirt on. I looked like a very exotic Gypsy. Ritchie came up to me immediately as he was perusing the audience and invited me backstage. That is when it began … our romance. We communicated through the mail and phone calls. When we met, we had an immediate connection, that I was rather surprised about because I considered Ritchie to be a rather dark brooding type of guy (he was) but I must have brought something out in him that was vulnerable and more gentle.
I truly loved the authenticity that he showed to me. Richard also knew me, he saw me as the unique personality that I am and that I cared deeply for him. I fell in love with him. We were both headstrong and leaders so we clashed and fought over my independence. I was a bit younger than he was and I had inexhaustible energy. I know that it frustrated watching me dash and flit about. In spite of our conflicts, Richard knew that I was not pretentious and that I loved him not his fame. I was never an opportunist, which was to my detriment.
I was always loyal to him in spite of his insecurities and suspicious nature. Ritchie was very drawn to me and would always tell me that it was odd because he had always loved blonde women and he had fallen in love with a dark-haired beauty. The attraction that we had was passionate fiery and profound. When he came to Providence, R.I. the following spring, May 1973, we got together again. I was picked up by his limo in Providence went to the show and then after we partied and I went back to the hotel suite with him.
That morning he told me that he was married. I literally flipped out grabbed my clothes threw whatever at him and told him that I was done and, "… never wanted to see him ever again!" I left him that morning. He lied to me. I was so angry and hurt. I would not return his calls. I ignored him. I just moved on with my life and kept pursuing my career.
Christopher: What happened when you left him in spring 1973? Were you with him in July 1973 when they were recording, rehearsing for the 'Burn' album at Clearwell Castle in England, and then after in the beginning of 1974? What happened after spring 1973?
Shoshana Feinstein: I was not with him in summer 1973. I think that he was seeing some French girl Sylvie he told me about her after we reconnected.
In December of 1973 when I first flew out to L.A. I had made some connections with people who knew the band Bread back in December of 1973 when I first flew out to L.A. to scope out the scene. I was living in L.A. for about 3 months when I ran into John, Michael, and Tony from the Rhode Island band. They were living in Van Nuys (the Valley). I was living in North Hollywood alone. I demoed a song for one of their writers, called "Everyman." It was a great song, I was very happy with the way I sang it as well as my overdubs and background vocals. To this day, I cannot tell you what happened to those people or that song. My father actually helped get me that connection via one of his business associates. I made the move to L.A. end of January 1974. The boys from Rhode Island and I decided to start up another band. We had a manager also from Rhode Island. It seemed that everyone had converged upon L.A. in the early seventies from the East Coast.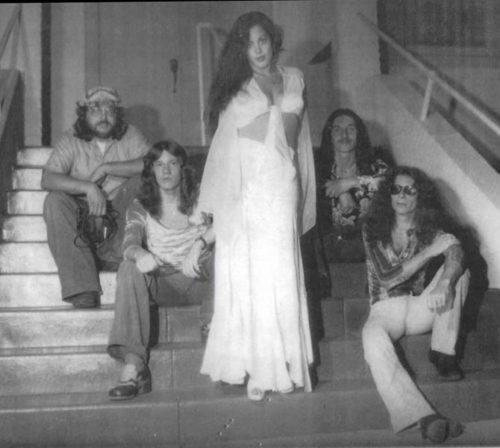 Dark Star L to R Michael Wayne-b, Anthony Pasquazzi-dr, Michael Iannuccilli-k, Shoshana Defiant Diva-v, John Angelina-g
Christopher: OK. How do you remember his appearance with Deep Purple on 6 April 1974 at California Jam Festival?
Shoshana Feinstein: The California Jam was coming to town and I had a friend who wanted to go with me. We didn't have tickets. I had heard that Deep Purple was also performing in that show. The last time I saw Richie was May 1973 when he performed in Rhode Island at the Civic Center. Now I decide to forgive what happened in spring 1973 and forget because I don't hold a grudge.
I told my friend, "Hey let's just go to the California Jam. I'll get us in." I had on a long fitted cotton dress with batik red and blue birds on it, lavender suede wedges and my hair was down to my waist. To this day, I do not know how I found my way to the tarmac because I did not know where I was going, nor do I know why or how I avoided the security police but I did.
Here we come to the chain link fence about ten feet tall separating the tarmac landing strip and road that obviously leads to the concert venue "CALIFORNIA JAM." My Lebanese friend is the brother of my girlfriend, he was about 17 (I can't remember any one's names now) and he is all excited to go to this concert, so he is blindly following me. Okay, so I climb over the fence in my long cotton dress with my wedges platform ankle strap purple suede shoes. Yes, I did and he followed me. Can you picture this me like a monkey scaling the chain link fence right over and down the other side? This is the uncanny fated moment. As soon as I walk onto the tarmac along comes a black limo heading down to us. I am standing there with my long black hair flowing in the California sunshine, with my Lebanese buddy by my side. The limo stops. The door opens and there is Ritchie in the back seat. He greats me with, "well hello," or something like that, but before he could say another word I reply, "Hello Richard (I never called him Ritchie, he was Richard to me) it's me, Judith. (Richard always called me Judith never Shoshana) I want to apologize to you for being such a bitch last time we were together. All is forgiven (I was so naive). He wondered how I suddenly reappeared in front of him and he asked, "Where in the world did you come from?," with a big smile on his face (he rarely smiles you know that). Get into the limo."
Off we go in the limo along with my friend and us to the California Jam! Richard never lets me out of his sight. Sits me on a speaker behind him but close enough for me to see the entire spectacle of this momentous event.
I think that ELP went on first. Amazing. Ritchie is holding me close as well as plying me with alcoholic beverages. Those were glorious romantic and exciting days.
Then Deep Purple goes on. This is the time that Ritchie gets so angry that he smashes the guitar straight into the network television camera. Now we have to fly via helicopter. Well, this is exciting; a bit like MI6, James Bond Style. Next moment we are at the Beverly Wilshire Hotel and off I go with Richard into his suite.
Now I'm in Ritchie's Suite at the Beverly Wilshire getting looped on champagne back in his arms and he is not letting me go. It was like a fairy tale.
I had to go back to my apartment that day. I leave. Ritchie called me immediately after I left the Beverly Wilshire. He had his longtime friend/band manager Ian Broad drive him over to me and he stayed with me for a week or so until he has to fly back to England.
We became very intimate on a soul levels when he remained with me in L.A. He saw my genuine soul and I saw his. He told me my eyes were like rainbows, always changing color. We talked for hour's days and he opened up a part of his soul very few had seen at that time in his life. We became very close, very fast. He knew that I loved playing piano, so he bought me an old mahogany upright piano.
He also bought me an album that he signed (I still have it) ST Martin of the Fields "Sir Neville Mariner Greensleeves" (he would play that on his guitar to me during Purple concerts, just suddenly break out of his solo into excerpts from "Greensleeves." That was our song. He also recited 'The Owl and The Pussy Cat' to me. He told me that he was my Oile (German for Owl) and I was his Pussycat. I would have to say the Mr. Richard Hugh Blackmore was a romantic gentleman.
We spent his 29th Birthday together on April 14th. He had to leave after that go back to England. He asked me to come live with him in England. I said, "yes."
Christopher: What happened next? Did you meet the other members of Deep Purple when you were in England?
Shoshana Feinstein: When I arrived in England on May 17th, 1974 (I remember dates, not names) we were getting ready to go to Cardiff Castle in Wales, where Deep Purple was rehearsing with Glenn Hughes and David Coverdale. We soon to be whisked off to this castle for the new Deep Purple rehearsal and recording. I had just thrown myself into this relationship with a "soon to be divorced" Richard, left L.A. and moved across the Atlantic for love.
Now I am in Camden Surrey in his and his wife's house. Babs remained in Los Angeles with friends. He kept promising me that he was divorcing her. We fought about that too. Ritchie and I would record on his Revox in his home in Camden Surrey where I lived with him a short time.
Next, I'm in a beautiful castle in Wales eating dinner with Deep Purple and the crew. I was a vegetarian then so I had special meals prepared by the chef who was very nice to me. I was always treated with respect and kindness by each band member and roadie. I got to know them well and I would hang out with them in the castle when Richard was recording or rehearsing. David Coverdale didn't talk to me at all. He seemed insecure. Glenn Hughes was in his own world as a rock star. Ian Paice was a phenomenal guy and drummer. Martin Birch their engineer was a stand-up guy.
When I first met Richard he did not talk to me about his band or his aspirations. He knew that I was a musician but now I know that he was only interested in me as a woman not as a musician. I felt that he didn't fully respect that part of me. I was tough to handle. Very head strong and independent. We would argue over music theory and who was the all-time best, composer. He loved Bach and loved playing Bach on his guitar. As much as we loved each other, our personalities clashed at times.
When I lived with him in England, he did open up to me about him leaving Deep Purple and starting a new Project. He wanted Paul Rodgers from Bad Company as a vocalist but Paul was under contract to Swan Song Record Company I'm not sure about the name, I asked him why not use a female vocalist (such as myself). He told me that women's voices are not powerful enough to front a rock band. That may have started one of our many arguments. Richard always told me that my voice was 'too pure" for rock and roll and too pure for the music business. I think in some way he wanted to protect me from the business. Ian Paice did offer to produce a solo project of me marketing me like a Streisand soloist. At that time, Richard and I were on the outs and I did not feel comfortable pursuing this venue with Ian. I often wonder what my life would have been HAD I been more assertive concerning this opportunity. Also, Richard was departing DP and beginning Rainbow. There were uncomfortable feelings from everywhere; I just had to get out.
Then we moved to L.A. We rented a house on the beach in Oxnard California.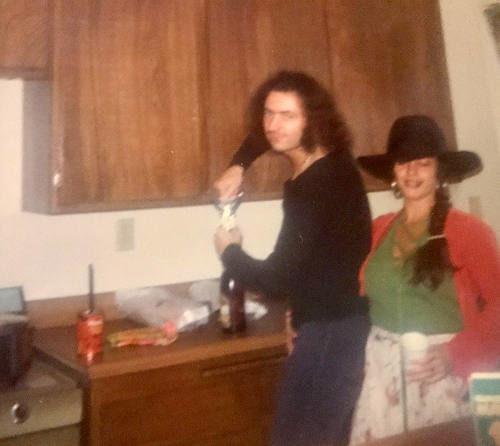 Ritchie and Shoshana in Oxnard California, 1974
He would talk to me about doing a Renaissance Project. Something that he wanted to do but did not think that his fans would be ready for that. He was very good on the cello. I have pictures of him somewhere playing the cello. I thought that he and I someday would do a musical project together but it was not meant to be.
I only put two conditions on my living with Richard. I needed my own room and a piano in it. I never asked him for clothes or money. Everywhere I went if we stayed long enough like in Munich where he was recording at Musicland Studios at the Arabella House he had a piano put in the room for me.
Ritchie, my friend Mirjana and her friends met at night club called ''Why Not?' on September 19, 1974. It was during the '74 Deep Purple Tour. I did go on the '74 Deep Purple Tour and flew in the Deep Purple jet all across the country. It would be the last Deep Purple Tour that Ritchie was on prior to forming Rainbow.
The next day, September 20th Deep Purple was playing at Olympiahalle, Munich, Germany. Ritchie had invited Mirjana to come to the Arabella House (where Richard and I were staying) to catch a ride with both of us to the show. Afterward MIRJANA, Richard and I hung out in our room in the hotel.
Christopher: Has Ritchie ever performed with you and your bands live while he was in Deep Purple and off? There is a certain picture where Ritchie plays live with you and some other musicians. What was that band's name? Where was it? What are the names of the guys in that picture?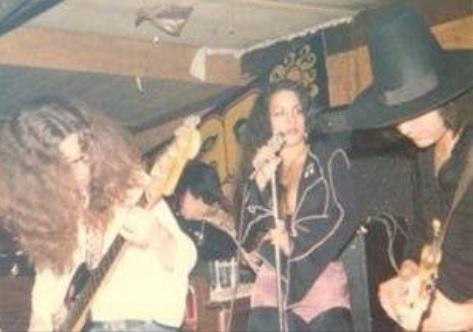 An unknown bass player, Shoshana Feinstein, Ritchie Blackmore at Gladiator Club, Providence, RI, USA, Dec 1974
Shoshana Feinstein: Richard and I came to visit my parents at Christmas 1974. We jammed at a local club in Providence at the time it was called "Thee Gladiator." It looked like the dungeon of the Coliseum. John Angelina played guitar with us (DARK STAR) I can't recall who was on drums or bass. I remember that I sang, "I'm a Man Yes I Am and I Can't Help but Love You So." I may have improvised on a blues riff that the band played. Somewhere I have the article from the paper. There were two bodyguards who stood outside the club that were dressed like Ronan Gladiators. We had a standing room only house and it was a wild evening.
Christopher: You were with Ritchie when he left Deep Purple. Could you tell me why he left them in 1975 and how do you remember that time?
Shoshana Feinstein: During the time that I was with Richard, he would talk to me about doing a project of his own. In the winter of 1975, he became more serious about this. I was supportive of his music and his branching out. I think that he felt limited with Deep Purple and there was a clash of egos somewhere, I really cannot say with whom. Maybe he wasn't happy with the new members that replaced Ian Gillian and Roger Glover that had left.
At the time, we were living on the beach in Oxnard California. He invited Ronnie to come stay with us and they began writing together at the beach house. Ronnie was a great guy, very talented kind and humble. We got along well and sometimes I would hang out with him in his room while he wrote his lyrics.
I was busy writing, rehearsing and recording with Dark Star. I had my music and pursued my career separately from Richard and his music.
In the fall of 1974, I answered an ad for a project the Marilyn McCoo and Billy Davis had put together; they needed a female vocalist to do back ground vocals and duets with this male singer. We were booked at the Sarah Lounge for six weeks. (The 12 am to 3 am slot.) I can't remember the singer's name at all. He was tall; blonde, wore glasses and had no rhythm! This guy would not talk to me off of the stage. It was very difficult to work with him. The other band members who were Afro-American made fun of him and became good friends with me.
Ritchie did come to visit me while I was doing my gig and we talked every day. I was paid well and Richard knew that I was not after his money or using him to "get to where I wanted to go."
Christopher: How do you remember forming his band 'Ritchie Blackmore's Rainbow and how he and Ronnie Dio came up with an idea of working together?
Shoshana Feinstein: Rainbow was formed in 1975 I would say around March. He had heard about a band from New Jersey called 'ELF' with a fantastic lead singer the now legendary Ronnie James Dio. I flew out to New Jersey to meet with him and the band. (I was never involved with Richards business negotiations but he did tell me the outcome of what he was discussing). After we went to Musicland in Munich to record the first Rainbow LP. Richard and Ronnie asked me if I wanted to sing background vocals on a few songs. I was honored.
 The rest is history. I believe that Richard named his project after the famous 'Rainbow Bar and Grill on "Sunset Strip, in Los Angeles that Ritchie and I frequented as well as other musical celebrities.
Christopher: You were singing vocals on 'Ritchie Blackmore's Rainbow' very first album. How did it happen? Could you tell me the story of making it?
Shoshana Feinstein: I do not recall ever hearing ELF until I met them when I flew out to New Jersey to meet with Ronnie James Dio. I remained in the background and did not ask a lot of questions out of respect for Richard's decision-making process. He asked me what I thought of Ronnie and I told him that I thought that he had a great voice. I am a straight shooter no BS kind of woman, and I would have told him otherwise if I had thought that Ronnie was not up to par (whether it made a difference or not) Ronnie was a gregarious and amiable guy very kind, humble and dedicated to Richard's music. When the time came to record, the first Rainbow LP off we went to Munich. I was especially thrilled to be working with renowned engineer Martin Birch who engineered most of the Deep Purple LPs. I recall sitting in the control room at the RECORD PLANT just watching him record and mix.
Working with Martin Birch, a Deep Purples longtime engineer was an amazing experience. Martin was a down to earth, pleasant fellow always greeting you with a smile. I remember sitting in the control room with him while he was recording Ronnie's vocals or Richard's guitar. I watched everything that he did and Martin would often explain to me what he was doing and why. It was decided by Ronnie and Richard, that I would only sing background vocals on "Catch the Rainbow" and "Still, I'm Sad." In Munich at Musicland with Martin Birch engineering the first Rainbow LP as well as my part doing background vocals. Richard had a piano put in my room for me so that I would have something to do when he was recording the rest of the Rainbow LP. I remember, I took off one day to be with the animals so I visited the Zoo. Richard asked my friend Mirjana (who was visiting us) where I went and she told him "Judith went to the zoo she has to go be with the animals." This zoo in Munich was called Tierpark Hellabrunn. (I am now "Diva Doolittle" caretaker on my farm of fifteen animals).
It was in March 1975, when they were finishing the recording of Blackmore's Rainbow first album. I just remember how sad I felt when it was time to leave him to fly back to Los Angeles. Richard and I had a deep connection. I didn't want to leave, he didn't want me to go. A feeling of sadness and loss overcame me that I will never forget. Perhaps it was a portent of what would be coming…
I was never granted mechanical royalties for that either. There are credits on this album I sing background vocals Shoshana. Richard never called me "Shoshana" it was always "Judith," always. I was in Munich for almost a month and then flew back to Oxnard leaving Richard to finish the Rainbow Project.
Dark Star and I were rehearsing new material and recording at MCA Studios with Bruce Brown the son of the studio's owner.
Christopher: When you and Ritchie split in 1975 what happened next in your and his life?
Shoshana Feinstein: After I left Richard in May 1975, I remained in Oxnard California. I moved out of the beach house we shared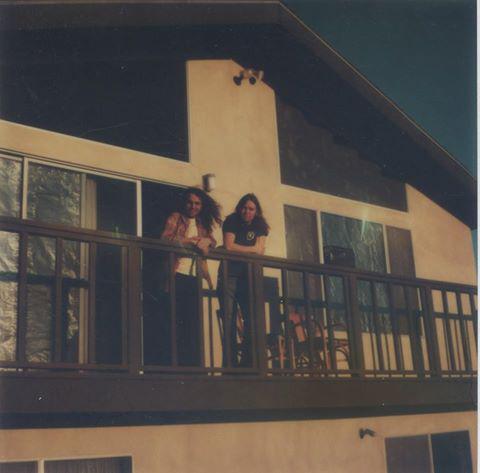 Ronnie and his band mate Gary Driscoll are on the deck of Oxnard Beach House house – picture from the collection of Clif Cooky Crawford
and I moved into the house about a mile from our beach house that Ian Broad stayed in. Ritchie let me live there with my band mates for a month and told me that I had to leave. I didn't have much money because I had not "gigged" in a while. My band and I pooled our resources and moved back to North Hollywood to work as 'Dark Star'
I never asked Richard for money or help with my career. I struggled for another year in Los Angeles, gave up and moved back up to Rhode Island to be near my Family. I went through major changes spiritually, financially and emotionally. I married the keyboard player from Dark Star Michael Iannuccilli and I settled down … for a bit.
For 15 years, Richard still called me, pursued me and came to see me when I moved back to Rhode Island. Twice once when I was married he came to our home; then later when I was going through my divorce with Michael in 1984/85 he came up to see me in an original band that I was singing backup for, called Coup D'etat. I was single then but I'm not sure if Richard was married to or about to marry Amy.
He never offered to help me with my music (I never asked him for help. At one point when DARK STAR was recording the first demo at the Record Plant in 1975, Artie Shaw (Alice Cooper's Producer) produced us then. Richard told my guitarist John Angelina that he would bring our songs to his record company Warner Brothers. I found out twenty years later that he never did bring those tapes to Warner Brothers.
In spite of our differences and the paths that we chose, every year Richard would call me two or three times. We would talk about spiritual things. I have a strong belief in one God and the Scriptures. Richard was very much into magic and liked delving into the dark side. We would clash about this. At one point, he told me that his spiritual advisor/wizard told him to stay away from me because I was the lost one wandering in the darkness. Ha! Ha! That didn't go over with me one bit. I hung up on him
Christopher: Did your split-up with Ritchie have any impact on your artistic writing?
Shoshana Feinstein: Yes, I had composed and recorded some songs. I recorded two particular songs with 'Dark Star' after I left Ritchie. I wrote the first one, "Dirge" about Richard and I. The second one "Fight Strong" was my anthem about how I would carry on without him. That what had transpired between us at the end would not break me. These were done in 1975.
I also recorded "Jag On" (It is a Rhode Island expression that means I'm going out and getting drunk over you) and "Movin On," this song was recorded with a remote unit in the practice area that we rented. All these songs along with other ones with DARK STAR I will be releasing soon.
Christopher: Do you remember that any strange or weird thing happened to both of you in the time you were not together?
Shoshana Feinstein: A couple of years later I had married again and had just come back from my honeymoon on Marco Island, Marco Island is a city in Collier County, Florida, United States. I mean the day after Richard calls me being very cordial and gently asks me, "Hello Judith it's so good to hear your voice. I hope that you are well." I told him that I was well and he talked awhile and asked me this (are you ready for it) … "Judith have you ever heard of a place called Marco Island? I bought a house down there and would love for you to come see it sometime." "Oh! Yes, I have Richard, I responded. I just came back from honeymooning there." That was in July 1990. He never called me again.
I think that he was just beginning to be on the outs with his girlfriend of almost ten years, she would know just about everything that had to do with Ritchie and Rainbow.
This story gets stranger. My second husband and I decide to move down to Marco Island in the summer of 1991. I sold my house in RI and we moved down to Marco Island. Richard's at this time now ex-girlfriend moves into his beach house. Tammy called me a few times when I lived there but we never met until around 2007. I moved back to Rhode Island in 1993 and was divorced again in 1994. I think that I am allergic to marriage. I kept on singing though in spite of setbacks!
Christopher: You probably have heard Ritchie reunited his Rainbow in 2015 just for a set of live shows in Germany 2016. I am curious what do you think about their present performance of "Catch the Rainbow" song? In addition, what do you think about Ritchie's new lead singer Ronnie Romero?
Shoshana Feinstein: Ronnie Romero is a good fit for the new Rainbow. He has similarities to Dio, yet Mr. Romero also has his own style. I wish Richard the very best in his new venture. I wish new Rainbow and the Rainbow Girls success.
Christopher: Thank you very much for your time, support and for lots of spiritual things happened while making this interview possible. Thanks for using the excerpts from your upcoming book "Detours of the Defiant Diva" written under the name of Shoshana. It was an honor for me to chat to you, to a woman with such a powerful voice and personality that was infused with the life of one of the greatest Rock guitarists and composers ever. Thanks!
© Chris Willow. Images and Audio published with permission of Shoshana Feinstein. Interviewed published with permission of Chris Willow. No part of this interview can be reproduced or reprinted with the express consent of the original author. All rights reserved.