Eddie Martin Blues Band (UK/PL)
Concert during SBF 2017
Friday, 07.07.2017, 6.00 p.m.
stage in Konstytucji 3 Maja park, free admission

Singer, songwriter, multi instrumentalist, band leader, composer, producer  and arranger. Eddie Martin is amongst the most versatile, creative and just plain hard-working musicians around.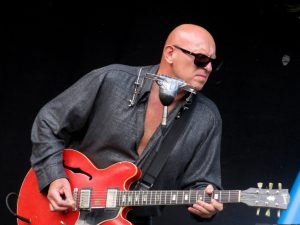 Photo – artist's archive
His determination to remain his own master, releasing on his own label (Blueblood Records), may have kept his name below the radar for many. But the accolades he has amassed are plenty – including this year's 2016 Nomination as Best Acoustic Solo Artist in the European Blues Awards.
With 14 album releases and constant globe-trotting since turning professional in 1995, London-born Eddie Martin has been called "The Ambassador of British Blues". 
Eddie is a Best Solo/Acoustic Artist Finalist in The European Blues Awards 2016, Blues Act of the Year 2011 winner, he has been Nominated Best UK Blues Guitarist, Best Harmonica Player, Best Band, Best Acoustic Artist and Best Blues Album, his songs have made it onto TV and film soundtracks. He is frequently broadcast on international radio, has performed many times on TV and recorded 3 sessions for BBC Radio 2, including at the famous Maida Vale Studios
In 2016, he has released a blues-rock album "Black White and Blue".
Eddie is also widely regarded as a top harmonica player. Listed one of the world's excellent contemporary players on the Modern Blues Harmonica website, he was lauded as an Innovator for his rack-harmonica skills by the World Harmonica Festival in Germany.

Members:
Eddie Martin – vocal, guitar
Łukasz Gorczyca – bass
Tomasz Dominik – drums
For more information visit: http://eddiemartin.com/