SUWAŁKI BLUES FESTIVAL EXTRA- Ladies Night
At the end of the festival, on Sunday, we're not slowing down! We finish with real stars! For the first time in the history of our festival, there is an absolutely unique event – SUWAŁKI BLUES FESTIVAL EXTRA – Ladies Night. A concert of a blues star from the USA and fantastic stars from Finland and Poland. Only women on stage, but how unique. It will be a real hit.

SUWAŁKI BLUES FESTIVAL EXTRA- Ladies Night
July 10th, 2022, at 18.00
Suwałki Arena, 26 Zarzecze Street
paid admission,
ticket: PLN 100 / person *
TICKETS available online at: https://bit.ly/3Mow5xv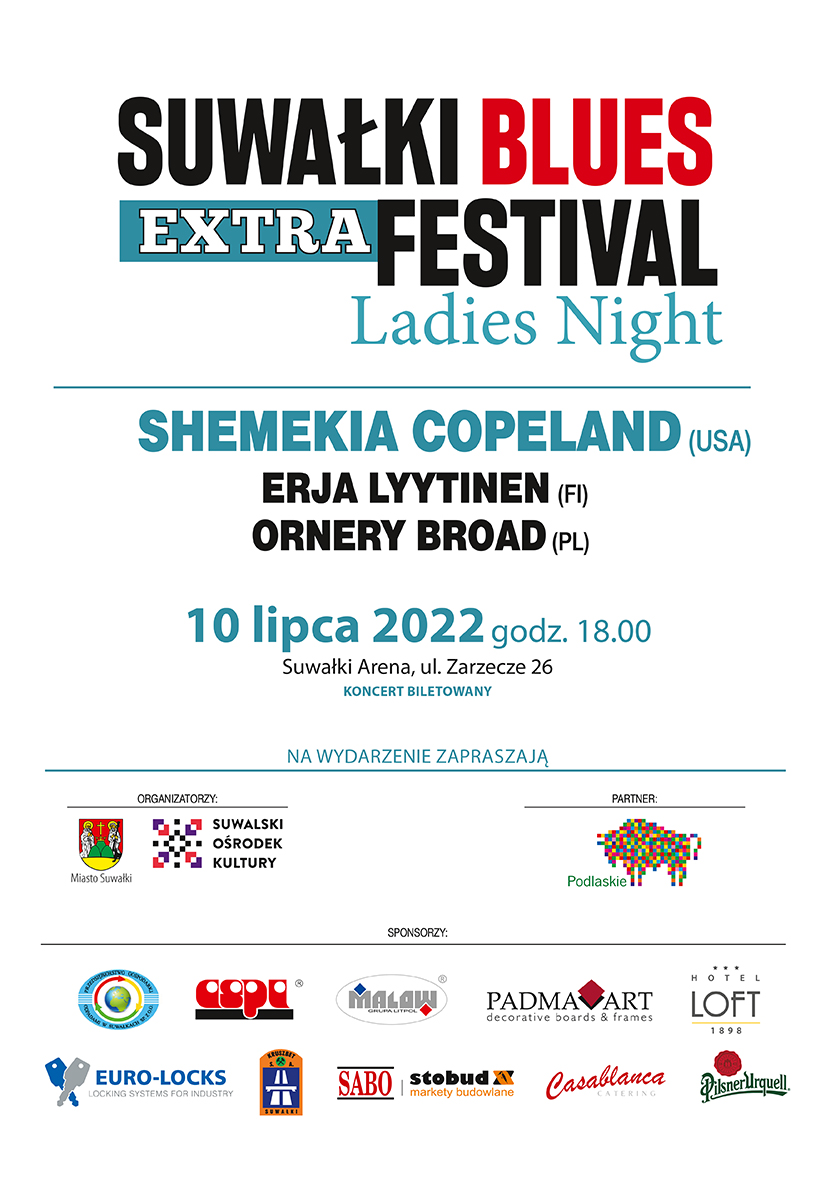 SHEMEKIA COPELAND (USA)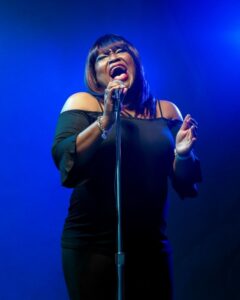 "Shemekia Copeland is a powerhouse, a superstar…She can do no wrong" –Rolling Stone
"Shemekia Copeland's voice is rich, soulful and totally commanding…authoritative, passionate and raw" –MOJO
"Copeland provides a soundtrack for contemporary America…powerful, ferocious, clear-eyed and hopeful…She's in such control of her voice that she can scream at injustices before she soothes with loving hope. It sends shivers up your spine." –Living Blues
With a recording career that began in 1998 at age 18, award-winning vocalist Shemekia Copeland has grown to become one of the most talented and passionately candid artists on today's roots music scene. Her riveting new album, Uncivil War, builds on the musically and lyrically adventurous territory she's been exploring for over a decade, blending blues, R&B and Americana into a sound that is now hers alone. The soulful and uncompromising Uncivil War tackles the problems of contemporary American life head on, with nuance, understanding, and a demand for change. It also brings Copeland's fiercely independent, sultry R&B fire to songs more personal than political. NPR Music calls Shemekia "authoritative" and "confrontational" with "punchy defiance and potent conviction. It's hard to imagine anyone staking a more convincing claim to the territory she's staked out—a true hybrid of simmering, real-talking spirit and emphatic, folkie- and soul-style statement-making."
Uncivil War—recorded in Nashville with award-winning producer and musician Will Kimbrough at the helm—is a career-defining album for three-time Grammy nominee Copeland. With songs addressing gun violence (Apple Pie And A .45), civil rights (the Staple Singers-esque message song, Walk Until I Ride), lost friends (the Dr. John tribute Dirty Saint), bad love (Junior Parker's In The Dark) as well as good (Love Song, by her father, legendary bluesman Johnny Clyde Copeland), Uncivil War is far-reaching, soul-searching and timeless. Guests on Uncivil War include Americana superstar Jason Isbell, legendary guitarist Steve Cropper, rising guitar star Christone "Kingfish" Ingram, rocker Webb Wilder, rock icon Duane Eddy, mandolin wizard Sam Bush, dobro master Jerry Douglas, and The Orphan Brigade providing background vocals.
Among the most striking songs on Uncivil War is the true, torn-from-history story, Clotilda's On Fire. It tells of the very last slave ship to arrive in America (in Mobile Bay, Alabama) in 1859, 50 years after the slave trade was banned. The ship—burned and sunk by the captain to destroy the evidence—was finally discovered in 2019. The song—featuring Alabama native Jason Isbell playing the most ferocious blues guitar of his career—is a hair-raising look at living American history delivered with power, tenderness, and jaw-dropping intensity.
Another stand-out song is the topical title track, a courageous plea for unity in a time of disunion. The song is simultaneously challenging and comforting, as Shemekia delivers Uncivil War with passion and insight about the chaos and uncertainty in the world while still finding light in the darkness and hope for the future. Rolling Stone praised it as, "Blues queen Shemekia Copeland's rootsy message song about the divided states of America. Her gospel-tinged vocal is there to soothe and defuse, reminding us that it's time to listen to one another and, ultimately, come together."
When Shemekia first broke on the scene with her groundbreaking Alligator Records debut CD Turn The Heat Up, she instantly became a blues and R&B force to be reckoned with. News outlets from The New York Times to CNN praised Copeland's talent, larger-than-life personality, dynamic, authoritative voice and true star power. With each subsequent release, Copeland's music had evolved. From her debut through 2005's The Soul Truth, Shemekia earned eight Blues Music Awards, a host of Living Blues Awards (including the prestigious 2010 Blues Artist Of The Year) and more accolades from fans, critics and fellow musicians. 2000's Wicked received a Grammy nomination. Two successful releases on Telarc (including 2012's Grammy-nominated 33 1/3) sealed her reputation as a fearless and soulful singer.
When Copeland returned to Alligator Records in 2015 with the Grammy-nominated, Blues Music Award-winning Outskirts Of Love, she continued to broaden her musical vision, melding blues with more rootsy, Americana sounds. With her soaked-in-blues vocals at the forefront, she extended her lyrical reach, singing substantial new material and reinventing songs previously recorded by artists including ZZ Top and Creedence Clearwater Revival. NPR's All Things Considered said, "Copeland embodies the blues with her powerful vocal chops and fearless look at social issues." No Depression declared, "Copeland pierces your soul. This is how you do it, and nobody does it better than Shemekia Copeland."
With 2018's America's Child, Copeland continued singing about the world around her, shining light in dark places with confidence and well-timed humor. Singer/songwriter Mary Gauthier, who contributed two songs to the album, said, "Shemekia is one of the great singers of our time. Her voice is nothing short of magic." Potent new songs, a duet with John Prine, and a reinvention of a Kinks classic led MOJO magazine to name America's Child the #1 blues release of 2018. It won both the Blues Music Award and the Living Blues Award for Album Of The Year. American Songwriter said, "Copeland delivers the meticulously chosen material with fierce intent, balancing her emotionally moving, searing, husky, four-alarm vocals with a more subtle tough yet tender approach. The riveting America's Child pushes boundaries, creating music reflecting a larger, wider-ranging tract of Americana."
Shemekia Copeland has performed thousands of gigs at clubs, festivals and concert halls all over the world, and has appeared in films, on national television, NPR, and in magazine and newspapers. She's sung with Eric Clapton, Bonnie Raitt, Keith Richards, Carlos Santana, Dr. John, James Cotton and many others. She opened for The Rolling Stones and entertained U.S. troops in Iraq and Kuwait. Jeff Beck calls her "amazing." Santana says, "She's incandescent…a diamond." In 2012, she performed with B.B. King, Mick Jagger, Buddy Guy, Trombone Shorty, Gary Clark, Jr. and others at the White House for President and Mrs. Obama. She has performed on PBS's Austin City Limits and was recently the subject of a six-minute feature on the PBS News Hour. Currently, Copeland can be heard hosting her own popular daily blues radio show on SiriusXM's Bluesville.
With Uncivil War, Copeland is determined to stand her ground, help heal America's wounds and continue to mend broken hearts. She brings people together with her music, a spirited amalgamation of blues, roots and Americana. She's anxious to bring her new songs to her fans around the world as soon as possible. Of the new album Copeland says, "I'm trying to put the 'united' back in the United States. Like many people, I miss the days when we treated each other better. For me, this country's all about people with differences coming together to be part of something we all love. That's what really makes America beautiful."
The Chicago Tribune's famed jazz critic Howard Reich says, "Shemekia Copeland is the greatest female blues vocalist working today. She pushes the genre forward, confronting racism, hate, xenophobia and other perils of our time. Regardless of subject matter, though, there's no mistaking the majesty of Copeland's instrument, nor the ferocity of her delivery. In effect, Copeland reaffirms the relevance of the blues." The Philadelphia Inquirer succinctly states, "Shemekia Copeland is an antidote to artifice. She is a commanding presence, a powerhouse vocalist delivering the truth."
The concert at Ladies Night in Suwałki will be her the only concert in Europe this summer.
More: www.shemekiacopeland.com
***
ERJA LYYTINEN (FI)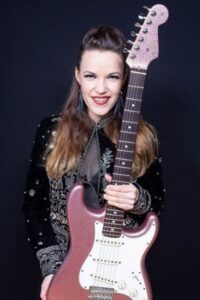 Since the release of Stolen Hearts in 2017, Erja Lyytinen has starred on MTV Finland's Tähdet, Tähdet show, picked up the much-coveted European Guitarist of the Year award, performed in front of 80,000 people in her hometown of Helsinki on New Year's Eve, shared the stage with the legendary Carlos Santana as well as clocking up in excess of 100 headline shows across Europe per annum.
As an artist, Erja Lyytinen's musical growth has seen the High Flying Finn continue to evolve, push boundaries without fear of exploring new sounds and musical ground. In that respect, Lyytinen intends to not make the same record twice. With her last studio album Another World, the gifted guitarist confirms that she has only scratched the surface thus far. "The album title is the idea of stepping into a new territory, musically and spiritually," she explains. "Walking towards a new land of musical ideas, not being afraid to express myself. This album is open-minded, curious and empowering."
Having first entered a recording studio some 17 years ago, singer/guitarist Erja Lyytinen has become a bona fide star in her homeland and a fixture on the international music scene. In that time, "the Finnish slide goddess" (The Blues Magazine) has recorded in places as diverse as Helsinki, London and Memphis, earning numerous accolades along the way.
Lyytinen's musical pallet is vast, encompassing the very best of contemporary blues-rock whilst inspired and influenced by the blues greats of yore. Celebrated slide guitar master Sonny Landreth, upon discovering Lyytinen's music remarked: "I sure enjoyed her guitar skills. She's obviously made a big name for herself. Things are going well for her and for good reason."
Born into a musical family in the town of Kuopio, Lyytinen quickly emerged as an artist to watch in her native country. She recorded her international debut Pilgrimage after signing with Germany's prestigious Ruf Records label in 2005. The 2006 Blues Caravan tour gave audiences in Europe and the United States a first taste of her spirited live performances.
The solo follow-up Dreamland Blues took her back to the USA to record with David and Kinney Kimbrough (sons of Mississippi blues legend Junior Kimbrough). After two years on the road, she returned with Grip of the Blues in 2008, mixing hard-edged blues with modern R&B. Her 2010 release Voracious Love was even more adventurous: The lavishly orchestrated "Bed of Roses" – featuring contributions from Marco Hietala (Nightwish) on vocals and Apocalyptica cellist Paavo Lötjönen – showed once and for all that Lyytinen is unafraid to push the stylistic envelope. With 2013's Forbidden Fruit, she returned to more familiar territory.
Canada's Blues Underground Network chose The Sky Is Crying as Best European Blues Album and Best Tribute Album of 2014. It also placed in the top three international albums of 2014 as chosen by writers at Britain's Blues Matters, who also honoured Erja as the #2 international solo artist.
 The Elmore James tribute The Sky Is Crying proved to be a breakthrough. Released in 2014, it was universally hailed as her best and bluesiest recording to date. This collection of stripped-down, old-school blues convinced even the most discerning listeners that Lyytinen's feel for the blues runs deep and that as a slide player, she has few peers. Live in London, a sizzling live set of Elmore James covers and original material released a year later, culminated with Erja being voted the #1 international solo artist by Blues Matters and Artist of the Year at the Finnish Blues Awards.
 For Lyytinen's 2017 studio album Stolen Hearts, the Finnish Bandleader amassed a talented group of musicians in Helsinki during the summer of 2016, then ventured to London's State of the Ark Studios to record with multi-platinum selling engineer and producer Chris Kimsey, known above all for his contributions to classic Rolling Stones albums like Sticky Fingers and Some Girls. In fact, Stolen Hearts was mixed on the very same EMI console Kimsey had often used with the Stones. "Chris said it was like meeting an old girlfriend after many years. He sat in front of the desk and his magic started to happen." Mastering was completed at Air Studios Mastering (part of the world-famous Air Studios started by Beatles producer George Martin) by Ray Staff, whose credits include iconic rock albums such as David Bowie's Ziggy Stardust and Mott The Hoople's All The Young Dudes.
Stolen Hearts was released at a time when Erja Lyytinen was broadening her horizons. In the run-up to its release, Lyytinen played a sold-out tour of Finland with her compatriot Heikki Silvennoinen and made her first-ever concert appearances in India. She recalls the process of making the record "purifying" – the product of difficult times of "heartbreak, frustration, disappointment, fear of loss and yet, at the same time, the deepest love."
 In the months that followed the release of Stolen Hearts, Lyytinen undertook two successful tours throughout the UK and her Blue Christmas tour with Sami Saari and Maria Hänninen across Finland. She also took part in the Finnish TV-show Tähdet, Tähdet (Stars, Stars) and sang for half a million people each week. The icing on the cake came in late November 2017 when it was announced that Erja won a European Blues Award for "Best Guitarist". In December 2017, Erja was voted the 7th best blues guitarist in a poll of The MusicRadar in which 136,000 votes were cast.
 In June 2018 Erja got to open for Santana at Helsinki's Kaisaniemi Park. Carlos Santana invited Erja to play on stage in front of 20 000 people. "It was inspiring to see her play. It was from the future and I like the future" Santana said giving her a nickname "Lightning" referring to Lightnin' Hopkins.
 Erja Lyytinen's last studio album Another World marked the next chapter in both her personal and professional life. "While Stolen Hearts was made during tough times," she reflects, "Another World is like spring, bringing in new fresh life and hope. The whole album is rockier and funkier, with elements of blues, pop, hard-rock, prog-rock – one song even has an Irish vibe."
 For Lyytinen's last album she called in a whole raft of her esteemed friends and colleagues that include slide guitar wizard Sonny Landreth and former Michael Jackson guitarist Jennifer Batten. With each of the nine songs featured on Another World, the Scandinavian guitar virtuoso elevated herself as both a songwriter and an artist and has truly pushed the boundaries of her musicianship whilst exploring areas above and beyond the traditional blues arena.
 A global team effort that included Lyytinen's first Producer credit, Another World was recorded, mixed and mastered by an international ensemble of world-class professionals. The songs passed through several locations including Gavin Lurssen's Grammy-winning Lurssen Mastering in LA, while the mix was crafted by Austin, Texas legend Chris Bell.
 Throughout 2019 Lyytinen completely embraced the idea of stepping into new territories both musically and geographically during a year which saw the artist cross the Atlantic on several occasions whilst undertaking several shows in Canada. The highlight of which being a performance alongside Hollywood star and Blues Brother – Dan Aykroyd as part of a collaboration with the Downchild Blue's Band at the Toronto Jazz Festival.
 Likewise, the gifted guitarist is not afraid to explore new musical avenues or work with artists outside of the blues genre. Midway through 2019, Lyytinen was honoured to support legendary Welsh singer/songwriter Sir Tom Jones during his Finnish tour.
 Following the release of Another World Lyytinen's personal growth and self-expression has not always been musical. The versatile artist added another string to her bow by releasing her first book. The biography, which is titled Blues Queen (Blueskuningatar), was released in the final quarter of 2019. Although initially it was released in Finnish there are plans to release the book in other languages further down the line.
 Erja Lyytinen kick-started 2020 with a run of headline shows throughout mainland Europe before returning to her homeland of Finland for an extensive domestic tour during February and March.
 Lyytinen was in the midst of one of her busiest years to date when the COVID-19 pandemic struck. Her touring and promotional activities had been catalyzed by a string of high-profile achievements during 2019. With overseas travel restricted and large gatherings prohibited, several months of touring were sadly cancelled or rescheduled.
Throughout the first half of 2020, with activities limited due to the lockdown, Lyytinen began work on new ventures such as the development of her own brand of tea namely 'The Blues Queen', working on her first song book as well as reworking her recent biographical book into new languages.
In June '2020 Lyytinen was voted Number 2 on Total Guitar's "10 World's Best Guitarists Now" poll, an achievement that was celebrated by the media at home in Finland. During the same month the artist also had the opportunity to perform a much celebrated and historic live stream from the top of the Novapolis building in Kuopio, which was watched by tens of thousands of viewers around the world.
More: www. erjalyytinen.com
***
ORNERY BROAD (PL)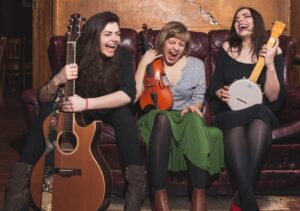 Ornery Broad is created by: Natalia Kwiatkowska, Eliza Sicińska and Paula Wolski. They share a fondness for americana. This is what you can expect at their concerts. Everything else is unexpected … Natalia Kwiatkowska was recognized as the best blues singer of 2015 and 2016 according to the readers of the quarterly "Twój Blues".
With Cheap Tobacco, in which she is a singer, she won the Grand Prix of many blues music competitions. Eliza Sicińska is a singer, songwriter and composer, with a wide range of musical inspirations, with a particular passion for blues music and American folk. She was awarded prizes for the best singer and stage personality of the 6th edition of the "Bluesroads" festival, Wielki Ogień im. Mira Kubasińska 2015 and the 25th edition of the "Blues nad Bobrem" festival. She is the singer of the band Hot Tamales. Paula Wolski is a Finnish singer living in Poland. He plays the ukulele and the violin, sings folk, country and bluegrass, as well as songs inspired by Finnish folk music.