CARVIN JONES BAND (USA) 2015

Concert during SBF 2015
Thursday, 09.07.2015, 11.30 p.m.
Rozmarino, 75 T. Kościuszki St.
tickets on www.bilety.soksuwalki.eu and at SOK Box Office
If you had a cance to see and listen to Carvin's spectacular concert at SBF 2014, you already know that he is trully a ,,king of strings". We couldn't say goodbye to Carvin… therefore, we will see him again during SBF 2015.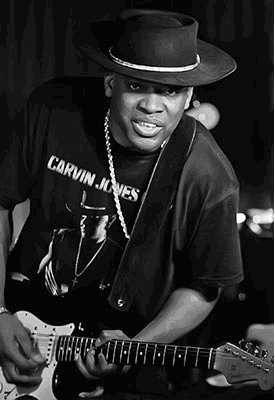 Have a look at some pictures of Carvin, taken at SBF 2014
Born in Texas, Carvin Jones was seduced by blues at very young age thanks to the BB King's records, which were constantly played in the house by Carvin's grandfather. At the age of 11 his grandmother bought him a guitar. The instrument was not only a prelude to his blues life but also a getaway from the threats from the street.
Carvin began touring Europe in 1999. He regularly headlines at many European Blues Festivals – including The Pokey Hole Festival (UK), Skegness Rock & Blues Festival (UK), The Warrenpoint Festival (Ireland), Bejar Blues Festival (Spain), Colne Blues Festival (UK), and several other in Italy, Spain, Poland (Blues Express, Scinawski Blues nad Odrą, Suwalki Blues Festival), Germany and Holland.
Jones has performed with such stars as: BB King, Albert Collins, Buddy Guy, Buddy Miles, Jeff Beck, Gary Moore, John Mayell, Jimmie Vaughn, Ten Years After , Eric Burden and The Animals.
Buddy Miles described Carvin as a new king of srings and Albert Collins as a shiniest young star on blues scene; ,,London Surrey News''headlined him as one of the best blues guitarist of the world.
CARVIN JONES BAND (USA):
Carvin Jones – vocal, guitar
Levi Velasquez – bass
Joe Edwards – drums
Also visit: www.carvinjones.com, www.facebook.com/OfficialCarvinJones