The Exclusive Interview with Bob Curiano alias Nouveau for Christopher Willow of Ritchie Blackmore's Rainbow Live 2016.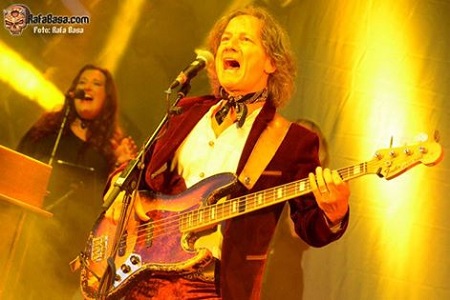 Christopher Willow: – How did you and Ritchie cross your paths again for Rainbow purpose ?
Bob Curiano: – I simply got a call from Ritchie's manager (Carol Stevens)… Ritchie wanted like to know if I would be interested in playing some rock shows with him in the newly reformed Rainbow.  I did not have to think too long about that answer… of course you know the answer was YES!!
– When did you meet up for the first rehearsal, meeting ?
– I think the first rehearsal was in November.
– Did you and Ritchie experiment on how the bass line should sound alike for current Rainbow live performances ?
– I'm happy to say that Ritchie gives me a lot of freedom to play what I like … it makes my job a lot of fun!
– Where was the first rehearsal, I mean the venue and what songs did you try?
– Ah ha… you want classified information! The rehearsal was on planet Earth… and the songs? You have to ask my boss!
– What brand or brands of bass guitars you gonna use for Rainbow ? It is cool Ritchie gives you a lot f freedom. Are you going to paly more Roger's plectrum style or more Glenn's picturesque one ?
– I probably will play my old Fender Jazz Bass, and also bring another bass…I don't know which one yet. I really don't play bass with a plectrum that much, but I do like Roger Glover's style
– Are you gioing to do any backing vocals for Ronnie Romero ?
– I'm not sure how much I'll be singing, but I think it's safe to say I'll be doing some backing vocals with Ronnie. Ronnie is the main man!!.. but thanks for asking!
– When you play bass solo, you like to play it just alone or to the other instrument ? For example Cozy Powell played sometimes his solo to the organ.
– Most of the time I like playing bass solos with a light rhythm (drums) supporting me, and/or light keyboard playing chords. Honestly, because I play other instruments I think bass solos are not the most interesting for me .. but still a lot of fun!
– When having rehearsals, what excited you the most ?
– Rehearsals get exciting for me when we find new and better ways of doing things…. things that make us special and distinctive. Good collaboration is important in creating the band's sound and identity. It's also important that there are no problems or difficulties with personalities in the band. As you know, problems like this can destroy a band. So far we are all smiling!
– How do you connect with the drummer David Keith ? Deep Purple and Rainbow have had very significient sound of rhythm section. Have you establish any special construction of the rhythm line ( bass and drums) for the new Rainbow ?
– I'm sure David and I will develop our 'sound'. It takes time for this to happen but remember, Ritchie picked the both of us for a reason. I think we will develop fast.
– Ritchie was always very demanding if it is about bass sound and bass players. He has chosen you. What do you think he likes in you ?
– So maybe you should really ask Ritchie why he picked me. Yes, sure he must like my bass playing, but don't forget that in Blackmore's Night I also played a lot of guitar with Ritchie. I also can play some keyboard, and sing, and also have ideas that help with arranging….. so my opinion is that he picked me because of my overall musicianship. Thank you Ritchie.. I hope I'm right!
– Have you ever played within strictly hard rock band before Rainbow ?
– Yes… The Backstreet Boys!!… haha! You know, I just told that little story on my Facebook page… anyway seriously…. When I was young, I played a lot of hard rock and blues in clubs with bands that were not famous. Interesting that a lot of the music we played were from some of Ritchie's favorite bands like Mountain, Jethro Tull, and The Vanilla Fudge…
– Why did stop you to play with Blackmore's Night in 2008 ?
– I stopped playing with Blackmore's Night to spend more time with my family and to take care of a lot of business I had in the New York area.
– What type of music do you like to listen to at home ?
– I am influenced by all genres of music… so I listen to a big variety. Soon I will be releasing some original music which contains many styles… you will see. At the end of my 'Little message to the Rainbow Fans' (on my Facebook page) there are two short commercials for two songs I am working on called Mambo Spielplatz, and Mission a Go Go … both completely different styles.
– Have any practcal jokes or funny stories happend while you were rehearsing with Rainbow so far ?
– The last rehearsal ended with some jamming on songs like "Hey Joe", "You Really Got Me", "Whole Lotta Love", and "Born to Be Wild" … funny, and great 1960's nostalgia!
– How is this version of Rainbow going to sound as you will be plying DP and Rainbow material ? So what can you tell about the sound of the band ?
– I think what makes this band a bit special is that we have the ability to play all the different styles of the many Deep Purple and Rainbow line ups throughout the decades .. AND.. we can do it by also combining it with our own individual styles and personalities. I wish we had more time to develop our own unique sound. I can hear it coming and it could be really exciting!
– Do you (I mean you and the rest of the band) and Ritchie think of composing any new song for June Rainbow concerts to perform it live ?
– I don't think there is much time for that (original songs) right now … there is too much work just learning everything else for the shows.
– How do you connect with Jens, David and Ronnie ? What feelings have you had when last rehearsing with Rainbow ?
– Right now we all get along really well together, and we all want this to be the best it can be in such a short time.
– What messege can you send to all Rainbow fans awaiting for June concerts ?
– Remember these shows will be the first shows we have ever played … please understand we're trying hard and we really need your support to build our confidence so we can do more shows and get better and better!