Due to the pandemic situation and the ban on mass events organization, Suwałki Municipality's authorities have decided to cancell the events planned for May, June and July 2020.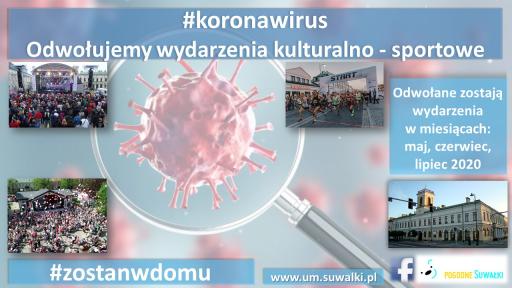 The worst is the fact that we do not know the exact date when the ban on organizing mass events ends, and this means that we do not know how or whether to plan events that are in this year's events calendar. At the moment, we only hear announcements about returning to sports life but to a limited extent.
Therefore, after extensive consultations with people responsible for organizing Suwałki events, it has been decided that all events planned to be held in May, June and July 2020, organized by the City of Suwałki, are now cancelled. This means that Reso Suwałki Half Marathon – the largest running event in our city and the largest blues event in our country – Suwałki Blues Festival will not take place this year. There will also be no Folklore Fair as well as a number of smaller culture and sports events.
Perhaps some of the events planned for the summer season could be carried out, but only after the epidemic is finished and "normality" come back to our lives.
Cancelling of the major events is a difficult decision – but it is well thought out and supported by valid arguments. First of all, not knowing when the ban on organizing mass events will be taken back. The city of Suwałki is not able to plan and carry out these events at such a high level as before.