Dear blues friends. The day has come. After the Polish edition of the festival in 2021, we invite you to "Sunny Suwałki". We can not wait to meet you here. Please have a look at the lineup of this year's edition.

Please note that late-night club concerts are ticketed. For more info on prices, please call the clubs directly. You will find all the information HERE.
Please also be noted that all open-air concerts carried out within the "Suwałki Blues Festival – a factor of social and economic development of Suwałki municipality" project are still free of charge.
You are very welcome in Suwałki.
See you there!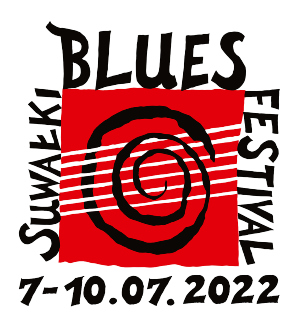 LINEUP
July 7th, 2022 (THU)
MUSIC WORKSHOPS FOR YOUNG MUSICIANS,
10:00 – 14:00 music workshops, SOK music studio, 71 Noniewicza Street
UNVEILING OF THE 13th SBF PLAQUE AT THE BLUES STARS ALLEY
15.30 – 16.00 Chłodna Street
BLUES HAPPENING / free admission
16:00 – 19:00
ŚWIETLIK / BECIAKI
BLIUZ PLIUS MINUS (LT)
OPEN BLUES
stage at M. Konopnicka Square
BLUES LIVES IN POLAND / free admission
19:00 – 22:00
special blues concert with the special guests: MAŁGORZATA OSTROWSKA, KASIA KOWALSKA, KRZYSZTOF CUGOWSKI, LORA SZAFRAN, SŁAWEK WIERZCHOLSKI
support NIE-BO,
stage at Konstytucji 3 Maja park
July 8th, 2022 (FRI)
MUSIC WORKSHOPS FOR YOUNG MUSICIANS
10:00 – 14:00 music workshops, SOK music studio, 71 Noniewicza Street
ACCOMPANYING CONCERTS / free admission,
13:00 – 14:00 INDIVI-DUO
16:00 – 17:00 JUTAS & BUKARTAS BLUES DUO
stage at 2 Chłodna Street
14:00 – 15:00 FLESH CREEP
15:30 – 16:30 SUWAŁKI GOSPEL CHOIR
17:00 – 18:00 BR BAND
18:30 – 19:30 ERIC SLIM ZAHL (NO)
stage at M. Konopnicka Square
BLUES CHILDREN SANDPIT – animations for the youngest
15.00 – 17.00at M. Konopnicka Square
SUWAŁKI BLUES DRIFT 2022 / free admission
15.30 Mazda MX5 parade, start – city 's town hall
18.00 – 19.30 GAZ BLUES GRUPA (PL/LT), stage near the Stara Łaźnia Gallery
20.00 – 21.30 BLUES SESSION & AGE (LT/PL), stage near the Stara Łaźnia Gallery
MAIN CONCERTS / free admission
17:00 – 17:50 ROB & BELKIN BAND (LT)
19.00 – 19.10 – opening the festival, stage at Konstytucji 3 Maja park
19:20 – 20:20 GARY MOORE TRIBUTE BAND
stage at Konstytucji 3 Maja park
18:00 – 18:50 RITA ENGEDALEN BAND (NO)
20:30 – 22:00 NOTODDEN BLUES BAND (NO)
stage near the City Hall
July 9th, 2022 (SAT)
MUSIC WORKSHOPS FOR YOUNG MUSICIANS
10:00 – 14:00 music workshops, SOK music studio, 71 Noniewicza Street
ACCOMPANYING CONCERTS / free admission,
13:00 – 14:00 ALEKSANDR BELKIN (LT)
16:00 – 17:00 BŁAWAT & TRZMIEL DUO
stage at 2 Chłodna Street
14:00 – 15:00 final of the music workshops and PIANO BLUES BAND
15:30 – 16:30 PAULINA & THE TRICKY THINGS
17:00 – 18:00 STARA SZKOŁA
18:30 – 19:30 DUCH DELTA
20.00 – 21.00 ARINA & VETO BANK (LT)
stage at M. Konopnicka Square
BLUES CHILDREN SANDPIT – animations for the youngest
15.00 – 17.00at M. Konopnicka Square
BLUES PROJECT – on mobile platform and the parade with motorbike show –  starting from 1 Mickiewicza Street
15.30 – 16.30
18.00 – 19.30 ANDY ABRO BAND (LT), stage near the Stara Łaźnia Gallery
20.00 – 21.30 MACIEJ KOMOROWSKI BAND, stage near the Stara Łaźnia Gallery
MAIN CONCERTS / free admission
17:00 – 17:50 BLUES MAKERS (LT)
19:10 – 19:20 ŚLĄSKA GRUPA BLUESWOA feat. Roman "Pazur" Wojciechowski
stage at Konstytucji 3 Maja park
18:00 – 19:00 SPOONFUL OF BLUES (NO)
20:30 – 22:00 REIDAR LARSEN (NO)
stage near the City Hall

July 10th, 2022 (SUN)
MAIN CONCERTS / free admission
12:00 – 15:30 POLISH BLUES CHALLENGE 2023, stage at M. Konopnicka Square
16:00 – 17:00 KNUT REIERSRUD (NO), stage at Konstytucji 3 Maja park

Hosts – Jan Chojnacki, Andrzej Jerzyk
Please be noted that there might be some changes in the programme